Content Manager ⁠— Estate of Nina Simone
Staff member
As part of
Lincoln Center's
non-profit mission to promote, present, and preserve the performing arts for future generations, they have put together a small educational exhibit of archival material honoring two artists who performed at Lincoln Center and who lived in the area: Nina Simone and Thelonious Monk.
Nina Simone made performance history at
Lincoln Center
, appearing on at least six occasions from 1966 to 1973, more than any other Black performer of the time period, making her a significant figure as Lincoln Center programming began to embrace musical forms beyond classical.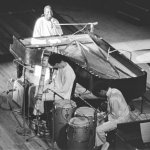 The exhibit was unveiled on a wall located inside the newly renovated David Geffen Hall on the Lincoln Center campus, in conjunction with the hall's reopening.
The exhibit is free and open to the public and will be on display through September 2023.
Click
here
for more information on the exhibit and Nina's many performances at Lincoln Center.
(Photo: Susanne Faulkner Stevens)
Last edited: