Content Manager ⁠— Estate of Nina Simone
Staff member
Contestants on LEGO Masters FOX season 2 Dave Kaleta and Richard Dryden showed themselves to be a team of dads that are passionate about social justice and civic & cultural pride. To continue their work they are now creating a 26 part LEGO project that celebrates Awesome Black Creativity from A to Z. Each week they choose a different subject to build and write about. Of course no one could more exemplify Black creativity than Nina Simone, their choice for letter N.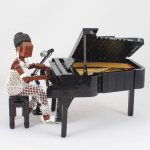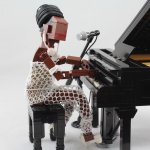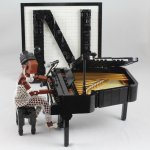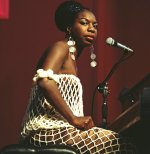 "To Be Young, Gifted & Black" is a generational mantra, funneled into a motivational anthem sung by Nina Simone. Nina Simone believed art should reflect the times, so she made a timeless soundtrack for and about Black liberation.
In three key words, Nina Simone touched the spirits of marginalized Black people as she hammered the piano's chords during a performance at the Harlem Cultural Festival of 1969. "You are young, gifted and Black; We must begin to tell our young; There's a world waiting for you; Yours is a quest that's just begun," stated the lyrics co-written by Weldon Irvine. Hearing the tremble in Nina Simone's voice is the way our ears feel the scars of slavery and segregation. Despite carrying the pain of millions, Nina Simone's eyes didn't flinch. She sang with unwavering hope that rings in the "Young, Gifted & Black" covers by Aretha Franklin, Donny Hathaway, Common, and many more.
One can't hear the song "Young, Gifted & Black." and its various renditions enough because it was made as a reminder to be embedded in the DNA of the listener. Look beyond the song; Nina Simone is the beating pulse of popular culture. Brands license her music to align her demonstrative voice with their taglines. She mothers hip-hop's soulful consciousness. Nina Simone was a gift to the world.
Words by Richard Dryden, Art by Dave Kaleta
Inspired by an original photo by David Redfern/Redferns